First floor
THE WINTER GARDEN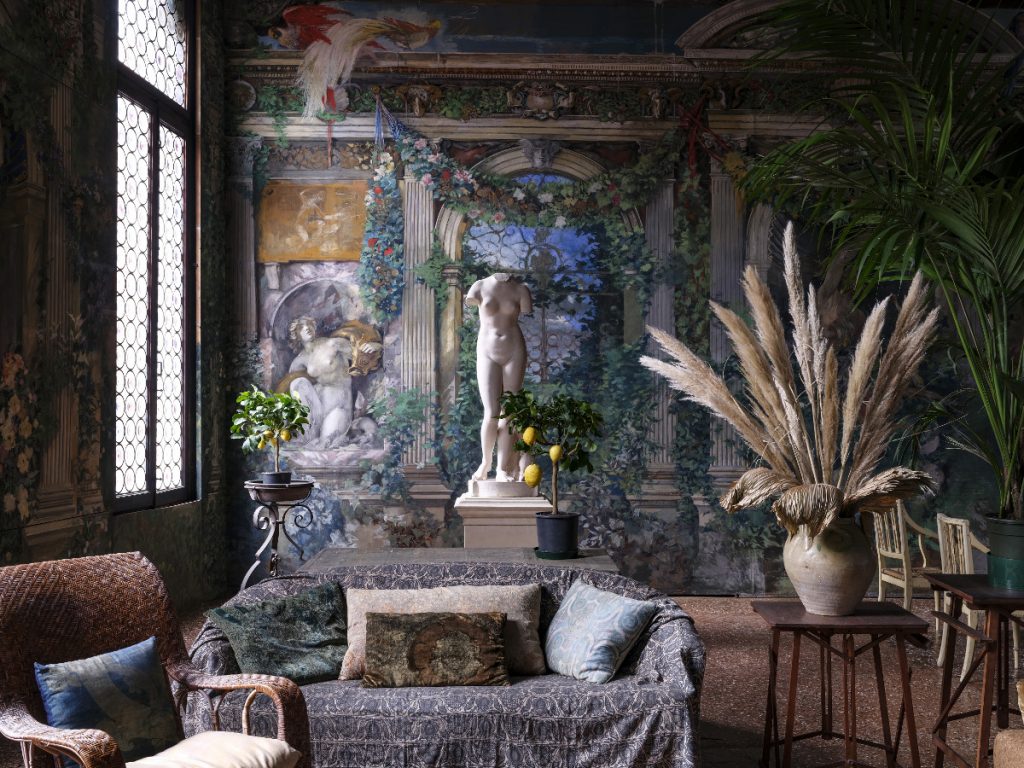 The room is surprising on account of the unexpected painting cycle on the wall: a work that Mariano Fortuny planned and created. For this project he invented a special framework of paper glued onto hemp cloth painted and attached to the walls. The composition covers three sides of the room, with a total surface area of around 140 square metres. Begun in 1915, it was completed in the 1940s. Supported by the artifice of the trompe l'œil and by a harmonious application of colours, the creation gives the space a great luminosity. An ideal "enchanted garden" animated by allegorical figures, satyrs and exotic animals: all set in a "Veronese-style" Corinthian loggia, embellished by luxuriant plant motifs, verdant garlands and sophisticated drapes.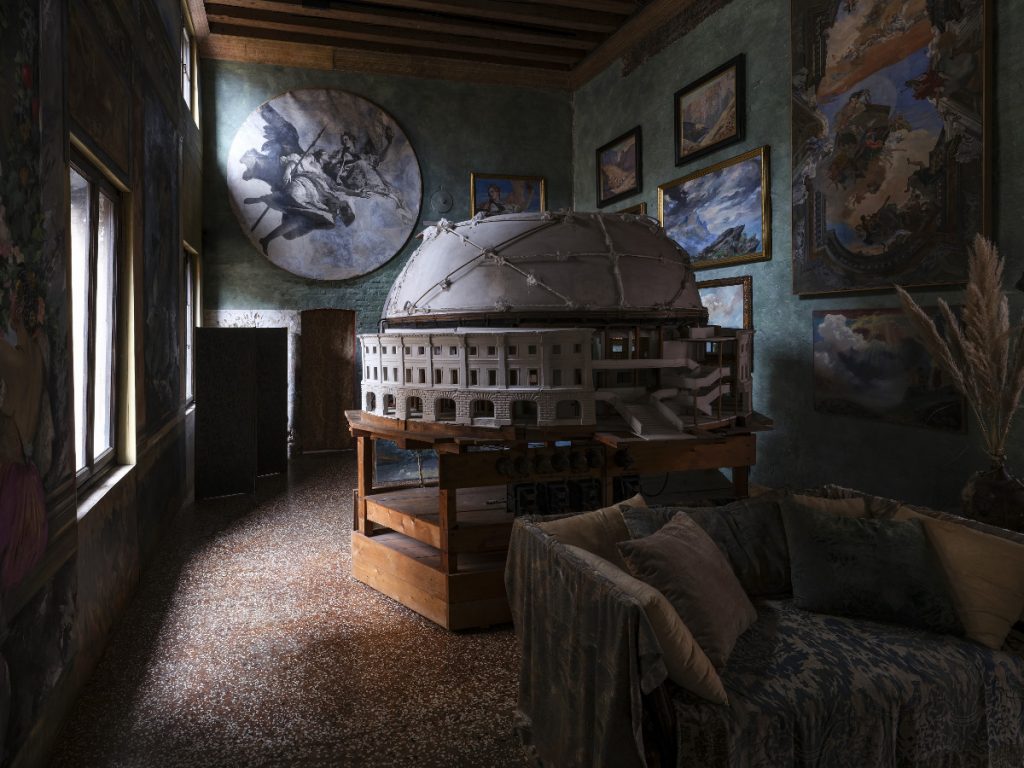 In the centre of the room two environments are formed in ideal terms. Those entering from the Portego can admire the paintings belonging to the cycle devoted to the Four Elements – Air, Earth, Fire, Water – undoubtedly realised in the late 1940s: a theme associated with classical iconography that was very dear to the artist, who used it repeatedly in a free expressive interpretation inspired by the Symbolist ideal and literature. In the second part of the room, passing the architrave, alongside The Embrace of Siegmund and Sieglinde from Richard Wagner's Valkyrie, we find the model for the Teatro delle Feste designed by Mariano Fortuny in 1910 in collaboration with Gabriele d'Annunzio and the French architect Lucien Hesse. An authentic synthesis of his theatrical poetics. The project, which was never realised, was to be positioned on the Esplanade des Invalides thanks to the economic support of two of the best known and richest personalities in the France of the period: Baron Maurice de Rothschild and Senator Deutsch de la Meurthe, added to whom would be the entrepreneur José Schurmann.
THE STUDIO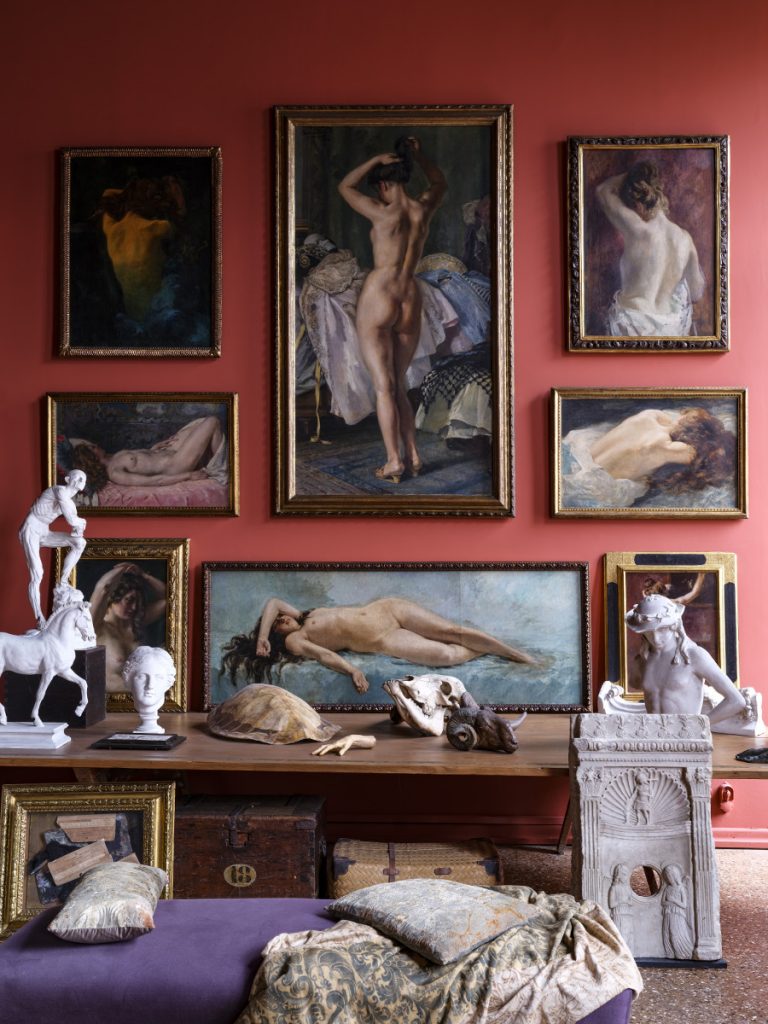 Mariano Fortuny is present in this corner room, illuminated by three Gothic windows, with a series of paintings, including a self-portrait. Painting always played a primary role in the life of the eclectic artist, and it is for this reason that we wished to recreate a space to be able to meet him ideally: sitting with his palette, ready to paint, facing the chaise-longue waiting to welcome the model. Carrying on the family tradition, privileged by international training and by visits such as that, at an early age, to the Parisian studio of Benjamin Constant, and fascinated by Nordic symbolism, Mariano Fortuny developed all this with extreme originality and synthesis. Hanging from the walls are paintings of female nudes, preparatory canvases for the cycle devoted to the Four Elements, drawings for some Allegories: here above all the artist experimented with and perfected the practice of drawing and the use of colour. At the centre of the room there are three monumental plaster casts: copies of the Belvedere Torso and the Parthenon Frieze, the head of a horse and the bust of Ilissos, the river god. An authentic art form, for Fortuny, as for all academic artists, the nude was a fundamental exercise in order to assimilate classical lessons through studies of anatomy. On the table there are the plaster models and anatomical examples by which he was inspired, yet with his own visionary modernity. For Mariano painting was the most important means of discovering innovative solutions that were useful in the disciplines in which he was a master, such as scenography, photography and printing on fabric. It was precisely for this reason that Mariano Fortuny had developed his research into mixtures of colours and painting techniques since the years of his youth. In 1933 he deposited a trademark "for tools and colours for artists in painting and sculpture", which would lead to the marketing of "Fortuny Temperas". There were forty-six colours produced in Palazzo Pesaro degli Orfei, plus four to be used for the preparations, which were placed on sale and packaged in tubes of various dimensions. These temperas were used extensively and praised by his contemporaries, painters, decorators and renovators, both Italian and from abroad, yet Mariano and Henriette would always maintain the strictest confidentiality regarding their composition.
SPANISH LEGACY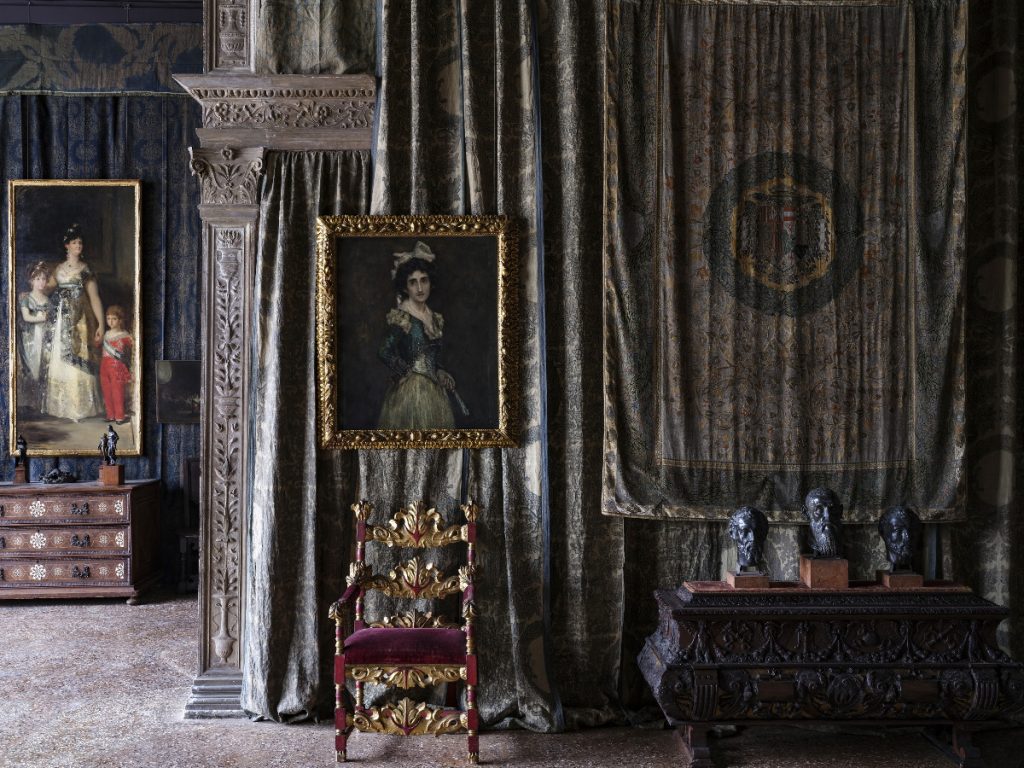 The context of the family to which he belonged played a role of primary importance in the artistic training of Mariano Fortuny y Madrazo (1871-1949). His mother was Cecilia de Madrazo y Garreta (1846-1932), an exponent of one of the most influential families of the 19th-century artistic and cultural panorama, both Spanish and international. The Madrazo family were highly prestigious painters, academics and men and women of letters: from family founder José de Madrazo y Agudo (1781-1859), Mariano's great-grandfather, to his maternal uncles, the brothers Raimundo (1841-1920) and Ricardo Madrazo y Garreta (1852-1917). When in 1867 Cecilia, the daughter of Federico de Madrazo y Kuntz (1815-1894), married Mariano Fortuny y Marsal (1838-1874), known as Marsal, the latter was already recognised as a "unique" and key artistic figure of his time. A cosmopolitan man with a multifaceted personality, Marsal knew how to excel in a wide variety of artistic techniques. Among the aspects that made his brief life special, there emerge assonances with the creativity of his son Mariano: their painting practice, the studying and copying of the great masters, their attention to light, their fascination with the representation of clouds, their applying themselves to multiple artistic fields, their technical skill in the decorative arts, their passion for travel, their taste for collecting and their attraction to Orientalism. In this first part of the grand hall, the Portego, on the first floor, we wish to underline the extent to which the Madrazos and the Marsals bore witness, in the last quarter of the 19th century, to one of the most intense periods of Spanish painting. Mariano was to always remain profoundly linked to this intellectual and artistic world and would attempt to maintain contacts with his native country, accepting positions and titles such as Vice-Consul of Spain (1917), Commissioner of the Spanish pavilion at the Venice Biennale of Art (from 1922 to 1942), Honorary Consul of Spain with jurisdiction over Veneto, with the exclusion of the district of Verona (9 December 1924), Member of the Real Academia de Bellas Artes de San Fernando in Madrid (14 December 1948).
TALENT AND INNOVATION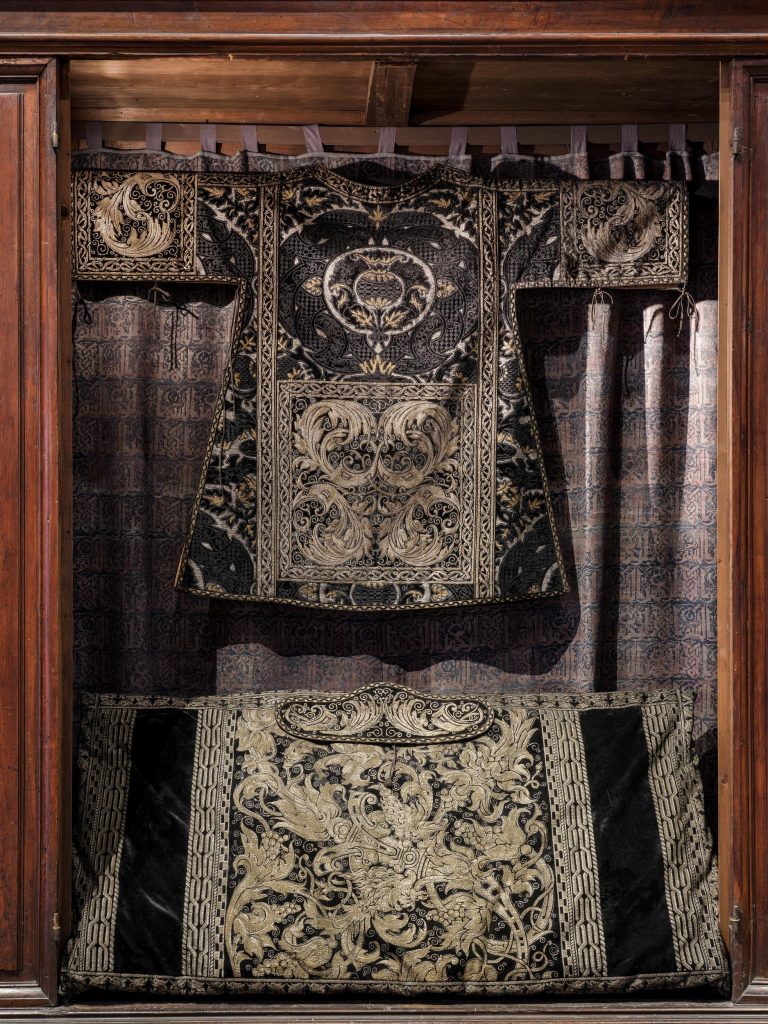 Mariano Fortuny suffered bitterly after the outbreak of the Spanish Civil War (1936-1939) and due to the countless deaths provoked by that conflict. Among the illustrious fallen was Fernando Maria de Constantinopla Fernández de Córdoba y Pérez de Barradas, the fourteenth Duke of Lerma, who lost his life in the fighting in Madrid on 10 September 1936. In his memory, commissioned by his widow Luisa Bahía y Chacón, Fortuny realised an extraordinary set of funerary objects, which today are conserved in Toledo at the Hospital de Tavera. The large cloth on which the noble coats of arms are prominent is combined with an equally sumptuous cushion. The work was executed in 1939 and used for the duke's funeral mass celebrated in Toledo on 3 July 1940. The Museo Fortuny conserves the preparatory items that, together with a black velvet dalmatic printed in gold and silver with motifs inspired by the Venetian Renaissance, represent some of the most significant and spectacular examples of the studio's textile production. Here the decoration achieves very high levels of virtuosity of execution, supported by the transcending of the Renaissance inspiration through a reworking and contamination of styles that make this funeral set unique and unrepeatable. Such ability was also confirmed by Mariano in the creation of the costumes for William Shakespeare's Otello that was staged on 18 August 1933 in the evocative courtyard of the Palazzo Ducale in Venice by the company of Kiki Palmer, directed by Pietro Sharoff. The decoration of the stage setting, the performers' costumes–that of Othello expressly designed by Mariano–and those of the four hundred walkers-on were all realised with Fortuny fabrics. Two examples can be admired beside the funerary set. These cloaks with hoods are citations of garments present on the canvas of the Miracle of the Relic of the Cross at the Ponte di Rialto (or The Healing of the Possessed Man) by Vittore Carpaccio and are reminders of Mariano's regular visits to the Gallerie dell'Accademia.
FRIENDS AND LOVED ONES

After some stays in Venice, between 1888 and 1889 the Fortuny family's move to the lagoon city became definitive. Their chosen residence was Palazzo Martinengo, a privileged location for the suppers of the cosmopolitan intelligentsia of the time. It was an essential destination for collectors and merchants, artists, men and women of letters and musicians, such as Martin Rico, José María Sert, Ignacio Zuloaga, José María de Heredia, Isaac Albéniz, Henri Lavedan and, once again, Marcel Proust, Henri de Régnier, Paul Morand, Reynaldo Hahn and Daniela Thode. Earlier however, during his previous Venetian stays between 1887 and 1888, Mariano Fortuny had engaged in painting studies by attending the evening courses at the Accademia di Belle Arti and coming into contact with the city's artistic and intellectual circles: Pietro Selvatico, Pompeo Molmenti, Antonio Fradeletto, Cesare and Raffaele Mainella, Cesare Laurenti, Ettore Tito, Mario De Maria and Angelo Conti. While Fortuny's painting work of the late 19th century found a correspondence in the art of his time, his subsequent production proved impermeable to the avant-gardes of the early 20th century. He was faithful to a traditional painterly language, but intelligently he was not unaware of the suggestions of Liberty and Nordic Symbolism. So in this part of the hall a number of portraits of Henriette Nigrin signed by Mariano himself are visible, some realised for the Venice Biennale of Art, but also works by other artists, such as the Portrait of Riccardo Selvatico by Alessandro Milesi or Aunt Luisa by Ignacio Zuloaga and the full-figure portrait of Contessa Anna Morosini by Lino Selvatico. Between 1899 and 1942 Fortuny was to participate in eleven editions of the Venice Biennale with his paintings, indeed, after his death, a retrospective exhibition would be devoted to him in 1950.
FAMILY COLLECTIONS
The Fortuny family's important collections of antiques – fabrics, clothing, tapestries, carpets, glass, crockery, majolica, weapons and armour, statues and furniture – are a fundamental part of Mariano's intellectual, spiritual and economic inheritance. An incredible heritage that reaches us today depleted, but no less relevant for this, enabling us to understand how much Fortuny's imagination was influenced by it. The intention in this room is to reconstruct, also with the aid of objects coming from the Venetian civic collections, the core of a collection devoted in particular to the tradition of the ancient armoury: halberds, breastplates, shields, helmets and swords offering evidence of Fortuny's collecting interests, but also of his bond with his father Mariano Fortuny y Marsal (1838-1874), who dead young, when Mariano was only three years old. For both collecting was a practice of gaining knowledge and of investigation, but also a source of inspiration and a working tool. Objets d'art and antiques were used extensively by both father and son as items to decorate their studio and as suggestions for their paintings, in which they were often included, transformed or reinterpreted. Mariano Fortuny, in fact, was to demonstrate a sensibility very similar to Marsal's in his way of gathering, studying and reworking the most diverse objects for his home. The costumes for Othello created by Mariano, which are present in this room, remind us of the passion for collecting of his mother Cecilia de Madrazo y Garreta, who had an extraordinary collection of clothes and fabrics (part of which exhibited on the second floor). From these Mariano derived certain of his decorative motifs, with a preference for those of the Renaissance, which he brought back to life thanks to his technique of printing on velvet and cotton.
FORTUNY AND THE ELDERS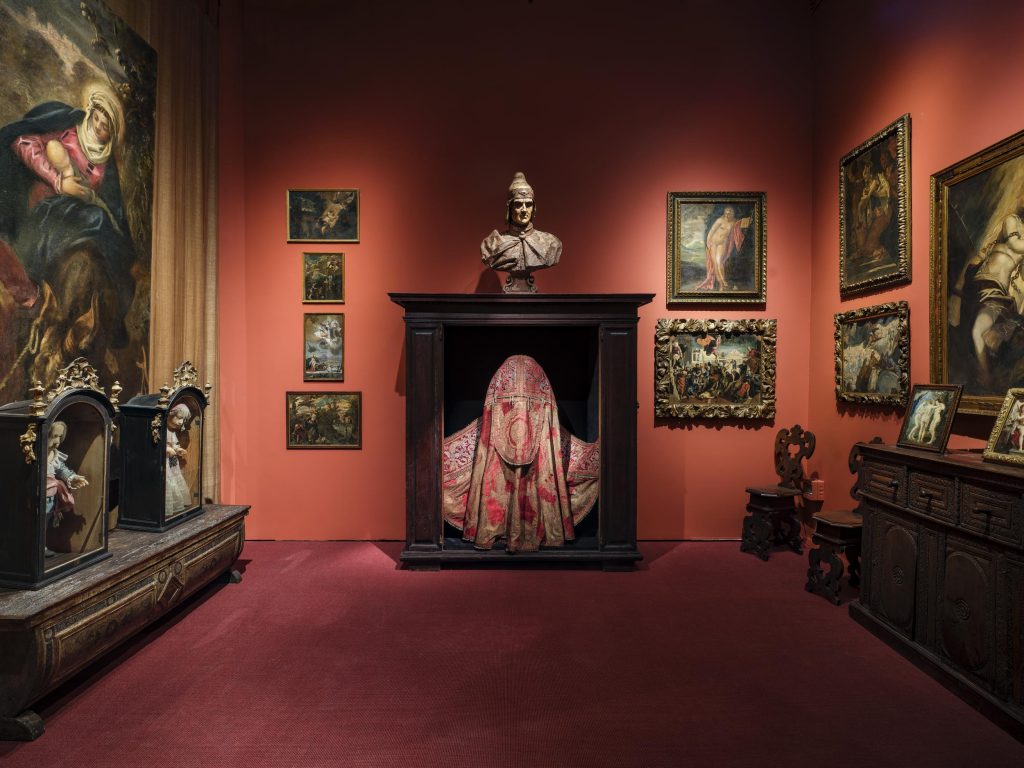 The copying of paintings by the great masters is a recurrent exercise in the formation of any artist. This was also the case for Mariano Fortuny. Having grown up within the sphere of the academic tradition of the late 19th century, Mariano had already begun the practice of painting at a young age during his years in Paris (1878-1888), under the guidance of his maternal uncle Raimundo de Madrazo y Garreta (1841-1920). His ideal teacher was his father Marsal, who died at the very young age of thirty-six; he was a capable painter who practised the art of copying by making reproductions of incomparable quality of his contemporaries, having a preference, among the Venetian artists, for Titian, Tintoretto, Veronese, Tiepolo, and then Ribera, Velázquez, Murillo, but above all Goya. In those years Mariano met artists such as Ernest Meissonier, Jean-Léon Gérôme, Paul Baudry, James Tissot, Léon Bonnat, Emmanuel Fremiet, Alfred Stevens, Georges Clairin, Giovanni Boldini and Benjamin-Constant, who were regular visitors to the Madrazos' Parisian residence. Mariano learned the fundamental principles of traditional painting in the latter's studio. The exercise of copying was a constant in his artistic life. Among his preferred authors: Titian, Tintoretto, his best loved painter with no less than eleven copies, Tiepolo and Rubens. Alongside the paintings, inside an antique cabinet we can admire a precious cope, a large liturgical vestment decorated using a special technique patented by Mariano in 1909-1910; in this case he was inspired by Renaissance decorative forms, welcoming the stylistic suggestions offered by them.
FORTUNY STYLE
It was in fashion and in fabrics that Mariano Fortuny expressed his highest creative vein and in 1907 this passion of his was translated into a fully fledged activity. As Mariano himself recalls: "Antique printed textile fragments found in Greece gave me the idea of studying a number of techniques for printing on cloth, so my wife and I established a studio in Palazzo Orfei for printing using our methods". On 24 November 1907, in Berlin, Mariano presented the printed silk shawl Knossos, worn for the occasion by Ruth St. Denis (1879-1968), a US ballerina and choreographer and a pioneer of modern dance. This is a silk rectangle almost five metres long and a little more than a metre wide, characterised by decorative motifs in an Minoan style, printed using Fortuny's unprecedented printing system. This veil could be worn in various ways: as a headscarf or gently wrapped around the body, as can be admired in the painting by Mariano Fortuny exhibited here depicting his wife Henriette Nigrin. In 1909 and 1910 Fortuny patented two printing techniques and realised one of his best known creations: the Delphos, a simple and essential shaped silk gown, inspired by Greek statuary. Coming about from an idea by Henriette, the gown is presented as a monochrome tunic characterised by extremely fine pleating. Shaped by tapes internally, it rests on the shoulders and falls freely down to the feet, while the neckline and sleeves are adjustable using silk cord drawstrings embellished with Murano small beads. The Delphos was usually worn with a printed silk belt and could be combined with other Fortuny products, such as the Knossos shawl, silk gauze surcoats or printed silk velvet jackets and cloaks. There are many other types of garments on which the Fortuny studio's production focused: dresses, jackets, cloaks, kaftans, abayas, djellabbas and burnouses, created with printing techniques patented by Mariano himself, which gave form to a particular and modern stylistic language, the result of a cultured and refined reworking.
WAGNER AND FORTUNY
Mariano Fortuny and Richard Wagner did not know each other. The composer from Leipzig died in Venice on 13 February 1883, when Mariano Fortuny was not yet twelve years old. It would be necessary to wait until 1889 for that passion to be sparked that would link Mariano with Wagner forever. It was that same year that his mother, Cecilia de Madrazo y Garreta, purchased Palazzo Martinengo in Venice to go to live there together with her son and her daughter Maria Luisa. In his Venetian residence, Mariano would meet the intellectual, critic and Fine Arts official Angelo Conti (1860-1930), with whom he would share the Wagnerian philosophical ideal. From that moment, at the age of nineteen, Fortuny would begin to paint the cycle of works devoted to the themes of the great German composer, with a predilection for the musical dramas Parsifal, the tetralogy of Der Ring des Nibelungen and The Master Singers of Nuremberg. If, together with Conti, Mariano Fortuny embraced the Wagnerian ideal, it was above all with the Spanish painter and engraver Rogelio de Egusquiza (1845-1915) – who had met the German composer and executed various portraits of him – that he shared the love for his music. In 1891 Mariano went to the Bayreuther Festspiele, an experience that he was to replicate in 1892 (the year when Egusquiza was to introduce Wagner's widow, Cosima, to the Fortuny family), and then again in 1894 and 1896. The paintings on the walls offer evidence of how his interest in Wagnerian iconography prompted Mariano Fortuny to move away from the academicism of his initial training in favour of a substantial move towards the stylistic features of Nordic symbolism, as clearly emerges in some of these paintings dating back to the 1890s. There is a certain anxiety in Fortuny's Wagnerian interpretation; with his vibrant brushstrokes he succeeds in transmitting the peculiarities of his characters. For Mariano, Wagner was more than simply a source of inspiration: he was at the origin of his research and his inventions in the field of scenography and stagecraft, which with exceptional and cohesive foresight he would carry forward for his entire life.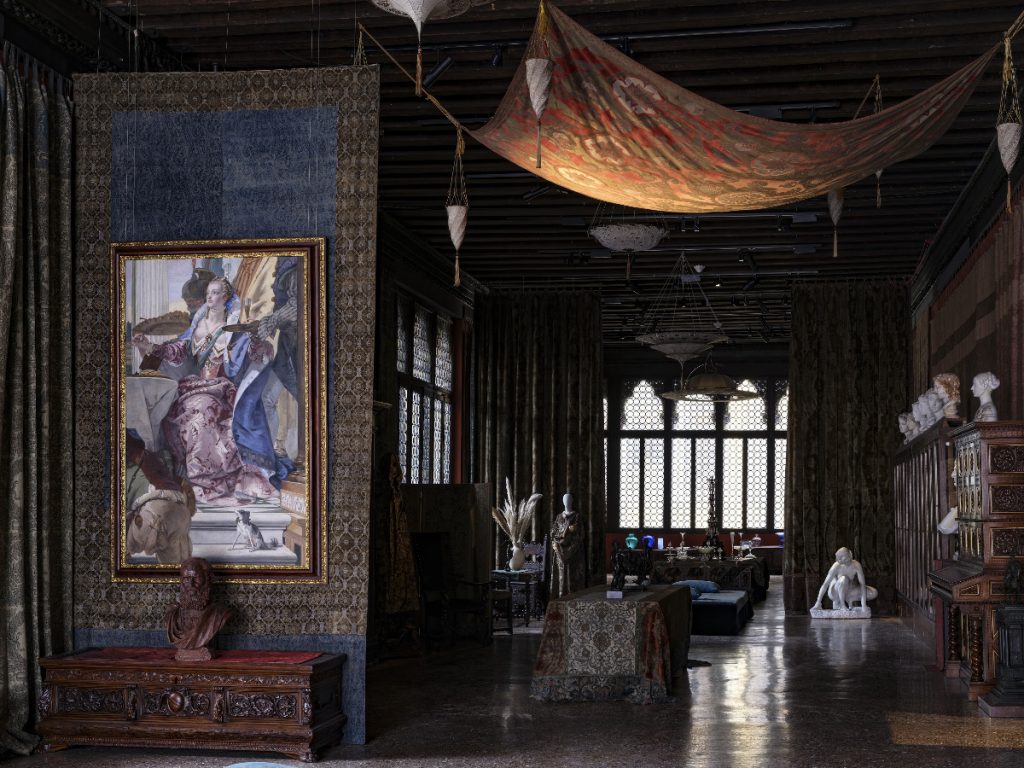 Photo © Massimo Listri
---
Downloads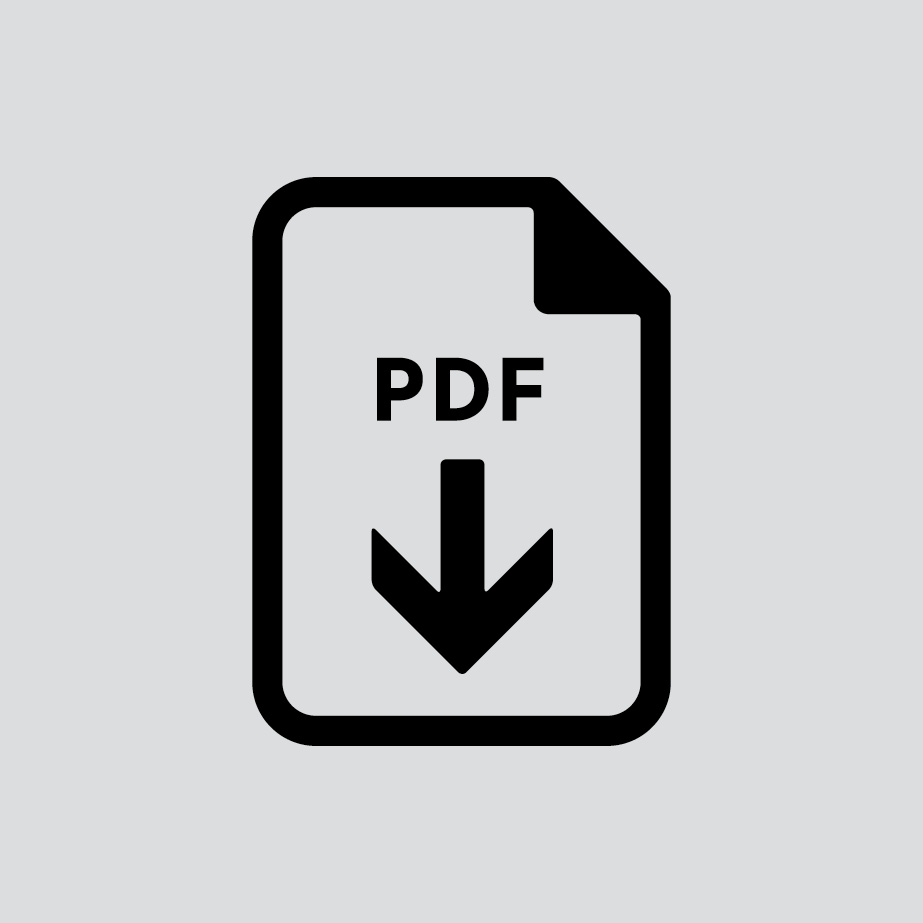 ENG / Mariano Fortuny and his Palace
(PDF 1345 Kb) – short version
The history, the building, collections and general information >